Even the first visit to the company starts with "Thank you for everything"
Tokai System was established in 1955. Since then, we have been dealing in a wide range of products including industrial products made of styrene foam such as commercial air conditioners and other plastic parts in cooperation with top-class domestic manufacturers. With an eye on the economic recovery in the manufacturing industry, our business performance has been strong. As more and more companies are focusing on capital investment, the needs of our company have been increasing.
We will continue to build on the trust that we have built up over half a century with our customers. We will continue to strengthen the trust that we have built up over the past half century with our customers, and we will continue to do so in order to create a more comfortable workplace and improve the lives of our employees. We are aiming to further strengthen our organization.
In this environment we are looking for a person who is responsible for sales and manufacturing.
We will focus on our existing customers, but we will also focus on acquiring new customers in the future. The important thing is to build a deep relationship of trust with our customers and to listen to what they have to say. It is also important to listen to what they have to say and meet their true needs. We are looking forward to working with you with a sincere heart.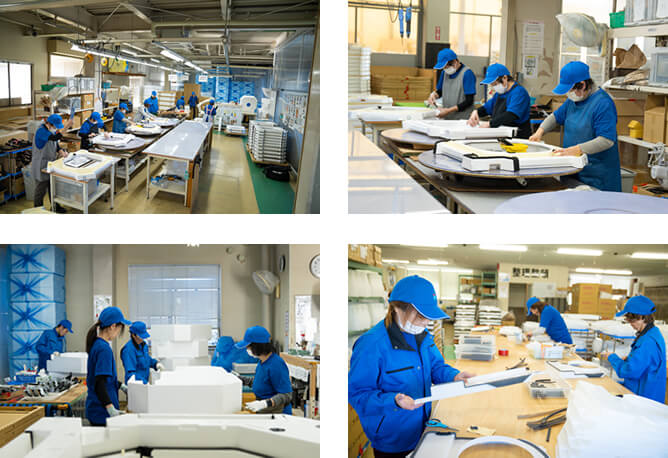 Application Guidelines
Job Description
We have customers from various manufacturing sectors and we offer air conditioner parts, compressors, servo motors or electric parts.
Although we mainly focus on making proposals to customers with whom we already have partnerships and we would like to expand our perspective to develop new customer contacts.
We respond carefully to a wide range of needs ranging from millions of yen to few thousands of yen.
Qualifications

High school graduate or above,
Age20 to 50 years old 【Inexperienced and New graduates are welcome】

= = If you meet the following criteria, please apply = =

Wants to work in a stable environment.
Wants to cherish relationship with customers.
Wants to fulfill both work and private life.

Recruiting Background
Since our establishment, we have continued to grow through the supply of chemical products (air conditioning equipment parts) and electrical parts. Demand from major Japanese manufacturers and overseas customers is increasing. In order to continue to expand our business while meeting the needs of our customers at a high level, we have decided to recruit new members.
Employment Type
full-time employee
※There will be a 3-month probation period. during the probation time there will be no change in salary and benefits.
Work location and transportation
Head Office and Plant: 1-26 Umeda-cho, Shimizu-ku, Shizuoka City, Shizuoka Prefecture
"U" and "I" turn welcome. No transfers.
5 minutes by car from Shimizu Station, JR Tokaido Line.
Working hours
8:30 a.m. to 5:30 p.m. (8 hours of actual work)
Salary
Fixed salary system: 190,000 yen to 300,000 yen per month
We will pay you more according to your experience and ability.
Holidays/ Leave

2 days off per week (Saturdays and Sundays) * Saturdays work twice a year
Summer, New Year, Golden Week, Annual Leave, celebrations and condolences

※According to the company calendar

Benefits and Treatment

Salary increase once a year (April), Bonus twice a year (July and December)
Various social insurances (employment, workers' compensation, health, and pension)
Transportation allowance (up to 24,000 yen per month), overtime allowance, travel allowance, family allowance, executive allowance
Car commuting is possible, parking is available, recreational facilities are available, financial savings, retirement funds

We will teach you the job description through practical work. Initially, you are required to actively learn about products and parts necessary for manufacturing. Also, we would like you to gradually learn how to communicate with our partner companies and factories. If you have no experience, don't worry.
If there is anything you don't understand, please don't hesitate to ask your seniors.

Applications and Inquiries
If you have any questions about recruitment, please contact us through the contact form on this website. You can also call us by phone with the below mentioned number.